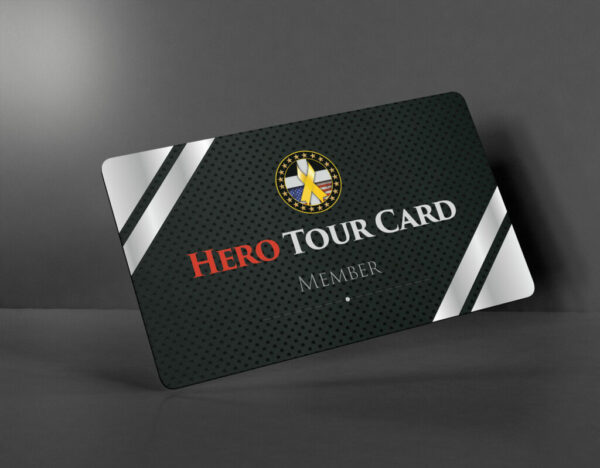 hero Tour Card
Golf free every week and support our Heroes
We've decided to host hundreds of Golf Tournaments across multiple states every week to honor our Heroes and pay for their golf.
Winners from those tournaments get invited to the playoffs and have a chance to represent their region and play in the Super Hero Championship tournament.
The Hero Tour Card is a direct way you can support our Heroes and earn free golf at the same time.
Earn access to golf in every tournament for free as a civilian. That's right – Week in and week out you'll get access to free golf at hundreds of different Hero Golf Courses.
Earn access to play competitively. The Hero Golf Tour is a perfect place to support our heroes and get free golf at the same time but If you want the chance to test your golf skills and make a run for the playoffs to represent your region in the Super Championship Tournament, you'll need an active Hero Tour Card.
If you are a veteran/first responder you automatically golf free at any one of our tournaments – choose the "Hero Ticket" on the registration page as available.  You will need your Hero Tour Card to play competitively.
We set up Hero Day contests on Hero Golf Courses once a week – typically Friday, Saturday, or Sunday.

Call your preferred course to check when we'll be out there.

Earn up to 100 points for winning contests.  The most common is holding the green on a par 3.

Achieve 300 points to activate your card.

Check your points HERE.

Golf free in every tournament as a civilian. 

Get access to free golf on hundreds of Hero Golf Courses.
Register at a Hero Days event or a tournament – 10
Participate at a Hero event – 20
Hold the green during a challenge – 100
Hold the fairway during a challenge – 100
Play the Hero Games on the Tour – 50
More Questions?
Chat with us using the chat button found on the bottom right of your screen or send us an email on this contact form.